Images can be added on your homepage and in any text areas with a HTML Editor.   All public pages display an Edit link or icon to Admin/Chair users which provides access to an HTML Editor tool.  
Uploaded images must be either a png, jpg or gif.
Note:  Item Images use a different process - they can be added with a one-step upload process from the Catalog > Add/Edit Item page.
Images must first be uploaded to the site:
Go to Admin > Site Settings > Customize Your Site > Themes and Images > Images
To add image, go to the HTML Editor on the page you want to place the image on:
Note:  Images can be added to any text area with the HTML Editor toolbar (click on any Edit Text button to see the HTML Editor).  If your site is not displaying any HTML Editors, you need to enable HTML editing at Admin > Site Settings >  Customize Your Site > General.
Paste Path for Image into page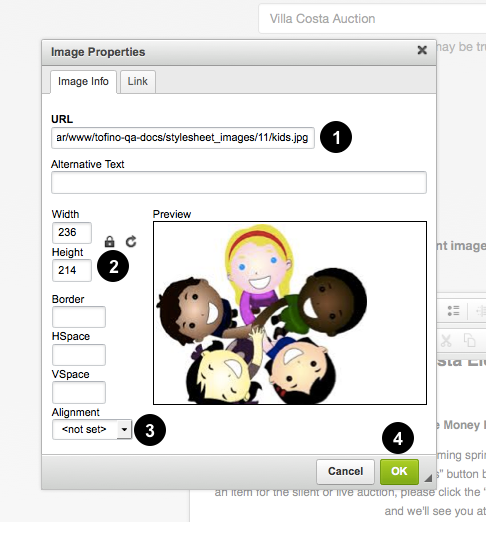 1. Paste address path of image into form.
2. Adjust the size and proportions (padlock indicates the proportion ratio is locked, so enter first value and other value is calculated to maintain ratio).
3.  Allows text adjacent to image:  choose desired alignment (right/left) of image and existing text will wrap on opposite side. 
4. Click on OK.
Make sure to save your edit:
Image appears in HTML editor but must be SAVED to appear on the page.
Check result and adjust if necessary: