To create an item to collect variable amount donations pledged during your Gala, Online or Mobile event.
Use Type = Paddle Raise for all cash donation items.     A fair market value of $0 is automatically recorded to reflect that all pledges are 100% tax deductible.
If you haven't already, create a "Friends of (your organization)" donor to use for items such as paddle raises which do not have donors.
Be sure to increase quantity to a number that safely exceeds the number of pledges you hope to receive.  
If you are having a single paddle raise or special appeal, the generic name will suffice. If you are having more than one, include the purposes in the name (ie.Special Appeal for Science Lab and Special Appeal for Library Resources)
New!  Like other item types, the default visibility setting for Paddle Raise items now displays in the web catalog.  Paddle Raise items can be individually (or bulk) edited to hide from public display by clicking on the Options tab > unchecking "Display in Public catalog" box > Save.
For Paddle Raises offered at Gala:
It is not necessary to add individual paddle raise items for each pledge level; in fact, doing so will only slow down data entry on event night.   Instructions for entering Paddle Raise pledges on event night can be found here.
Generally, your auctioneer, or someone within your organization will introduce the paddle raise and make the pitch for contributions during the live auction portion of your event.  So Paddle Raises flagged for the Gala venue do not display in the public web catalog by default.  If you would like the item to appear, check the box at Options > "Display Item in Public Catalog.
For Paddles Raises offered in Online Auctions or via Mobile Bidding: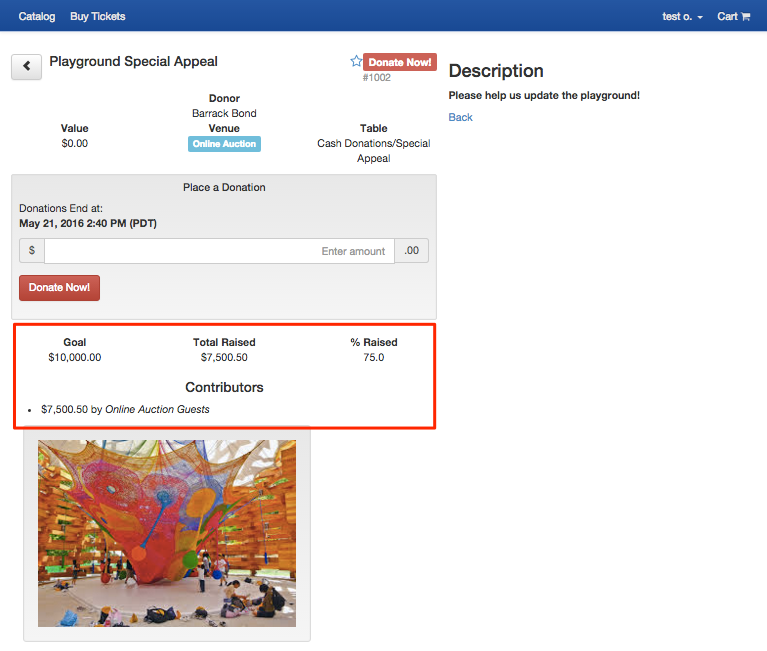 When Online Auction or Mobile Bidding venue is flagged, a Target Value field is added to the item detail form.  When a Target Value is provided, it will display in the public catalog to show progress toward your goal.  If the Target Value remains at $0, the Progress section will not display.
You can specify how (or whether) contributors names display in the public catalog at Admin > Site Settings > Online Auction or Mobile Bidding > General.