You can create display screens to be projected onto a wall, or shown on a tv/monitor screen to allow the audience to watch (and cheer on) the mobile bidding process:
To create display screen(s):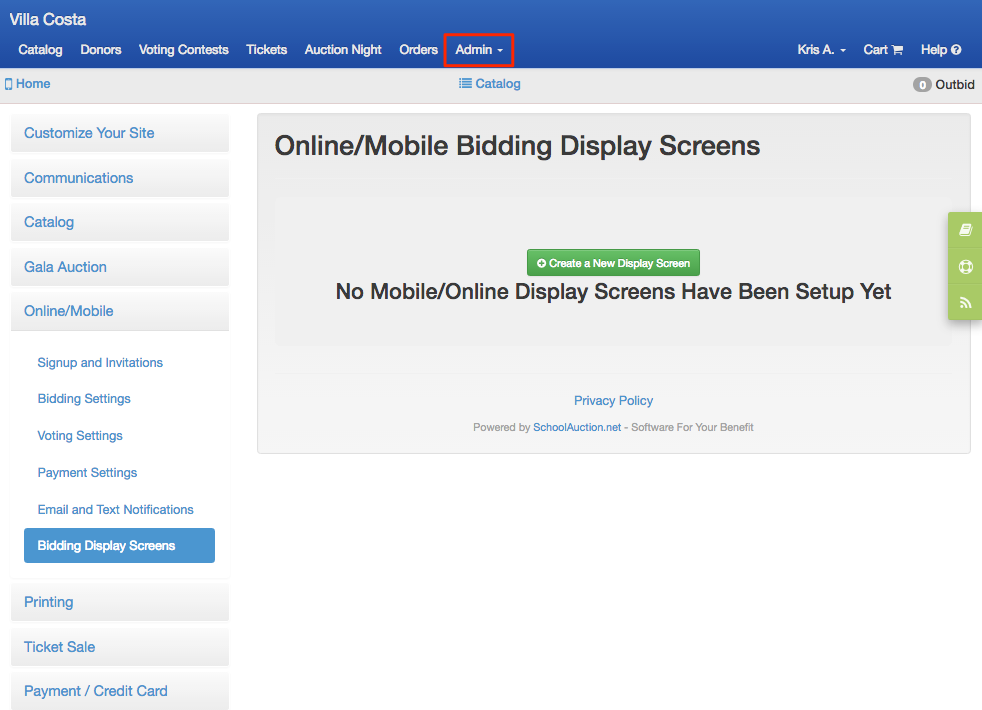 Go to Admin > Site Settings > Online/Mobile > Bidding Display Screens > Create/Manage Display Screens.
Manage Display Screens:
1.  Create a New Display Screen.
2.  Edit and Existing Display Screen.
3.  Preview and Project a Display Screen
To Configure Display Screen:
1/2.  Provide a Name and Description (not public, identifies display on list of available displays shown in previous image.
3.  Optional:  Add image, logo or text to display at the top of the screen.
4.  Select how many items should display at once (1-3).  Note that Multiple Item Images only display when displaying one item at a time.
5.  Select the scroll rate.  Note that items refresh each time they scroll, so frequent scrolling provides the most up to date bid reporting.
6.  The High bid is always displayed but you can select how much bid history (if any) to display.
7.  Select desired options   Note:  Items will not refresh to display most recent bids unless items scroll.
8.  Select All and/or add/remove desired items to display.
9.  Save your changes.